, and
Calling out for prison justice
October 25, 2016
PRISONERS AT the Merced County jail in California's Central Valley ended several weeks on hunger strike on October 21 after prison officials agreed to consider two of the demands put forward by prisoners.
In the face of protests inside and outside the jail, officials say they will look into the arbitrary and racist system of using color-coded uniforms to classify inmates by alleged gang affiliations, and food contaminated with blood and other bodily substances, a frequent occurrence that authorities often ignore.
Prisoners in Merced started the hunger strike in coordination with a nationwide prison labor strike begu on September 9, with demands for an "end to prison slavery." This has become the largest prison labor strike in U.S. history.
Other demands specific to Merced include the firing of an especially brutal lieutenant sheriff, access to legal resources, adequate food and no more solitary confinement.
Family members of the incarcerated strikers explained their demands at an October 15 rally in Merced called by Live Free Merced. The protest drew some 40 people, about half of whom came in a caravan from Oakland organized by the Industrial Workers of the World's Incarcerated Workers Organizing Committee (IWOC).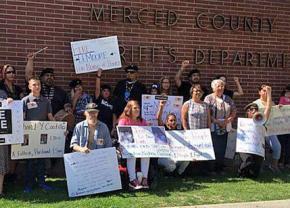 The rally was emceed by Victoria Castillo, whose husband Richard Castillo is on hunger strike inside the jail, and the first speaker was Naiche Dominguez, whose son Joseph is also on hunger strike.
Incarcerated when he was 17 years old, Joseph has been in jail for 14 months without a trial or being convicted of a crime. His father said in an interview that Joseph is fighting simply to be treated like a person: He isn't given enough food, despite the fact prisons are mandated to provide 2,000 calories a day; he isn't offered any education programs or exercise equipment; and he's denied access to religious services.
Joseph was on hunger strike from October 1 to October 17. When asked at the rally how he was holding up two weeks in, Naiche said, "It's hard. He's hungry." His father said he told Joseph: "Stay strong, for your family, for everyone...It's not just about one cell block, but people inside and outside, too."
As Victoria explains, "What we have is the criminalization of Black and Brown communities, low-income communities being targeted and incarcerated or deported and shipped off. We need people to take note. Merced County is a place and stuff is happening here, and it's intersectional with things happening all across this nation."
"We will continue to end police terror," she said. "We will continue to fight for the rights of those most oppressed in our communities."
---
PRISONERS IN Merced were already planning to take action independently of the national strike against unfree labor, called on the anniversary of the Attica prison uprising in New York state on September 9, 1971.
Strikers were aware of the California prison hunger strikes of 2011 and 2013 against solitary confinement, but the catalyst in Merced was an incident on June 30, when sheriff's deputies stormed the cells, supposedly searching for contraband, and used tear gas, flash-bang grenades, rubber bullets and beanbag rounds.
Prisoners say that several of them were shot and injured even though they posed no threat, lying flat on the ground. They are demanding an independent investigation and the release of surveillance video.
The strikers in Merced have connections to organizing that goes back many years. Victoria has worked with Live Free Merced since 2014, and has become known to local police as an activist. She told attendees at the October 15 rally, "Lots of families want to be here, but are afraid of retaliation...We say 'Speak out, get seeked out. They won't mess with me because I am an advocate, but they'll mess with my brother, my son, my 13-year-old son.'"
Naiche has worked with the Black Berets por la Justicia of San Jose, an organization that fought to preserve Native American culture and rights for decades, from the struggle against coal mining in Black Mesa to the fight against the Dakota Access Pipeline at Standing Rock.
Many of the families involved in the strike in Merced came together only in recent months, finding each other through social media.
When prisoners and their supporters in Merced learned of the national action led by groups like the Free Alabama Movement and IWOC, they decided to join their planned action to it, and reached out to build ties of mutual support. One result was the caravan from Oakland for the October 15 demonstration.
Joseph's mother Emily said that she got involved first and foremost "to show him he has support, that we haven't forgotten him." The rally was small, but as Naiche told the crowd, the strikers inside "know we're here, and we have to let them know they're not alone."
The crowd chanted "Meet their demands! Fire Lt. Moore!" "What's the call? Free them all!" and "Inside, outside, all on the same side!"
---
DURING THE rally, a group of EMTs entered the jail. Organizers said seven hunger strikers had already been removed from their cells and sent to the medical unit or outside hospitals since the beginning of the strike, four of them within the 48 hours leading up to the rally.
While Emily didn't consider the outcome of the strike a victory, she was glad that it got Joseph moved to another facility, away from the conditions in the county jail. Joseph and his family are now focused on preparing for a potential prison term, and while they still hope he will be found innocent, they plan to "hope for the best, and prepare for the worst."
Many family members had a simple request for those who want to show their solidarity: In the face of a near-media blackout on the prisoners' struggle, they said, "Get the word out!" They want the world to know, as Naiche said, "They're not monsters, they're human beings."
The U.S. ruling class is adept at social control and brutality. More than 2 million people are incarcerated; some 7 million are under some form of direct state control such as prison, jail, probation or parole; more than 100 million Americans have a criminal record; solitary confinement and other forms of torture are rampant in juvenile and adult facilities; and half of all U.S. adults are held in a facial recognition database.
Across the world, jails and prisons are filled with those most brutalized under an economic system--capitalism--that cannot provide for people's basic necessities. Alongside the imprisoned, we work for a world in which all people have what they need, and where offenses against a community are handled using restorative and victim-centered methods.
A world without prisons may seem far off, but the biggest national prison strike in U.S. history should give us hope. Prisoners who face the horrors inside prison walls and their families and supporters on the outside are demonstrating what the power of solidarity looks like--from Merced to Alabama to Oakland.