On strike inside America's gulag
September 13, 2016
Lee Wengraf reports on a nationally coordinated strike by prisoners--and describes the awful conditions in prisons and jails that are sparking a courageous resistance.
A STRIKE is taking place across the country in the most difficult of conditions: inside U.S. prisons.
On September 9, which was also the 45th anniversary of the 1971 Attica Prison uprising, prisoners across the country took part in a national strike, withholding their labor to protest terrible conditions, violence and forced labor, and to demand their rights as workers.
Strike organizers told Democracy Now! that they anticipated actions in at least 24 states at more than 40 facilities.
Though it was impossible to confirm the scope of the strikes and actions for obvious reasons, reports began to emerge from behind prison walls across the country last week.
Prisoners at Holman Prison in Atmore, Alabama, refused to report to work, and North Carolina prisoners got word out that others had joined the strike. There was also strike action at Otisville Correctional Facility in New York.
Incarcerated women at the Central California Women's Prison in Chowchilla, California, and Fluvanna Prison in Troy, Virginia, stopped work. WikiLeaks whistleblower Chelsea Manning also began a hunger strike on September 9.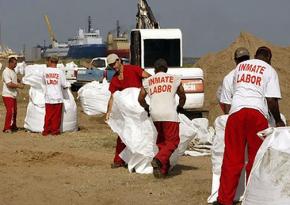 Other actions, typically characterized as "riots" by the media, were reported. In South Carolina, a maximum-security prison was locked down after a protest involving a group of 30 prisoners. "They snatched a few of my people up last night, locked up and transferred," one prisoner wrote in a report published at the Facebook page of the Incarcerated Workers Organizing Committee (IWOC), the main formation supporting the strike on the outside. "The prison officials' tactics of hitting us seems to have put fear in many of the others...But what I do know is that it has started something."
In the days and weeks before September 9, there were protests in Lincoln, Nebraska, and at Holmes Correctional Institute in Bonifay, Florida, with "unrest" reported at other North Florida prisons.
Earlier this year, prisoners in seven Texas prisons went on strike, and there were actions in Mississippi, Wisconsin, Minnesota, Ohio, Nevada, Louisiana, Pennsylvania and Indiana. In Michigan, prisoners went on a hunger strike at three facilities where, according to Think Progress, officials served food contaminated by trash and rodent saliva.
IWOC, a standing committee of the Industrial Workers of the World, worked together with the Free Alabama Movement, Free Ohio Movement and other prison abolition and prisoners rights organizations to support the strike. In a statement, it said participants in the strike:
will withhold their labor from the jobs they perform that keep prisons functioning, such as laundry, janitorial, clerical, food preparation, plumbing, maintenance, grounds keeping and electrical work, as well as manufacturing and agricultural jobs prisoners are forced to perform for corporate profit. Many prisoners will also be continuing hunger strike action and engaging in other forms of resistance.
---
THE DEMANDS of the strikers vary from place to place.
Chief among them is access to medical care, education and services behind bars. In Texas, for example, prisoners must pay $100 to see a doctor. Prisoners are also taking a stand against harsh discipline meted out by guards, especially the use of solitary confinement as punishment, but also brutality and retaliatory guard actions.
Living conditions are notoriously awful, including massive overcrowding, rotten food, contaminated water and toxic chemicals. A particularly bad problem in Southern states is prisoners being forced to live in un-air conditioned cells where the heat index has been known to reach as high as 150 degrees.
Probably the major focus of the strike, however, is the issue of prison labor.
Across the U.S., nearly 900,000 prisoners work in prisons, for very little or no pay, according to The Nation. As prisoners and solidarity activists have long pointed out, the U.S. Constitution's 13th Amendment that abolished slavery provides for what some call the "punishment exception," allowing unpaid labor to be imposed on those behind bars.
Corporations such as Walmart, McDonald's, Victoria's Secret, Nordstrom's and AT&T Wireless take advantage of outsourced prison labor. The vast majority of prisoners, however, work directly on upkeep and the functioning of the prison itself.
Prison labor is a $2 billion a year industry, reports The Intercept: "Most able-bodied prisoners at federal facilities are required to work, and at least 37 states permit contracting prisoners out to private companies, though those contracts account for only a small percentage of prison labor."
As the Incarcerated Workers Organizing Committee describes, "Prisoners are often dangled the carrot of good time pay, which is supposed to credit prisoners for shifts worked by having them be released sooner. The reality is that in many cases prisoners are not credited good time pay release."
Wages can be withheld by prison officials for the ostensible purpose of covering prisoners' room and board. As a report published at TruthOut.org described, "Whatever remains goes toward buying the necessary commissary items for making life in prison tolerable. Essentials like toilet paper, deodorant, menstrual products and laundry detergent can each cost multiple days' wages."
Not surprisingly, working conditions are horrific--prisoners routinely report hazardous conditions and no safety equipment on the job. according to the Free Alabama Movement, "About half of the people fighting wildland fires on the ground for the California Department of Forestry and Fire Protection are incarcerated," numbering approximately 4,400 prisoners.
---
PLANNING FOR the strike began in April when prisoners from Ohio, Alabama, Virginia, and Mississippi said they would be part of a "nationally coordinated prisoner work stoppage against prison slavery." It was a sign of spreading organizing inside and collaboration with a range groups on the outside, such as Pastor Kenneth Glasgow's The Ordinary Peoples Society, IWOC and others.
In 2010, thousands of Georgia prisoners joined a work stoppage at several prisons. In 2013, a 30,000-strong hunger strike in California, which involved prisoners in solitary confinement among others, won some important reforms.
The Free Alabama Movement (FAM) was formed in 2014 with the first prison work stoppage in Alabama history. FAM is led by prisoners Robert Earl Council Jr. (also known as Kinetik Justice), Bennu Hannibal Ra-Sun (formerly known as Melvin Ray) and James Pleasant. They decided, as Council told In These Times, that "[t]he labor aspect is what keeps these places going, and that's the only thing we have control of. We began organizing around that."
In a 2015 manifesto called Let the Crops Rot in the Fields: A Call For New Strategy in the National Movement Against Mass Incarceration and Prison Slavery, the FAM emphasizes the importance of withholding labor.
Ra-Sun, who is incarcerated at St. Clair Correctional Facility in Springville, was put in solitary confinement as punishment for his involvement in the 2014 stoppage. "It's what they call soft touch or hands-off torture," Ra-Sun told Regina Willis writing for Waging Nonviolence. "It's a small cell, it's filthy. It's hell. I mean it's literal hell, and they use it to torture people."
Ra-Sun said in an interview with SocialistWorker.org that retribution against prisoners continues today--but that others incarcerated with him have joined the strike in spite of the repression, and the mammoth difficulties of communicating and organizing across different facilities.
This is a conscious strategy, says Malik Washington of End Prison Slavery in Texas. "There are many Prison Authorities and Law Enforcement Officials who will attempt to characterize our movement as violent," Washington said, with the aim of trying to break down solidarity on both sides of prison walls.
The strike has reached prisons with a long history of resistance inside--like the Southern Ohio Correctional Facility in Lucasville, Ohio. A 1993 prison uprising ended with widespread repression, including the conviction five key organizers who were sentenced to death. One of the five and a member of the Free Ohio Movement, Siddique Abdullah Hasan, was targeted with bogus terrorism charges in the lead-up to the September 9 strike action.
Greg Curry was also convicted in the aftermath of the 1993 uprising. Today, he is part of the strike movement, as he explained in an interview with SW:
THE BEAST (CAPITALISM) MUST BE DEFEATED by challenges to its structure at the bottom, at the top, wherever it exists. So that's why the strike is now and why I support it. [Lucasville] is a hybrid version of a Supermax prison so there is limited, closely monitored movement with access to just a small number of other prisoners, so we find ways to communicate...

I'm okay with measuring the movement not necessarily in terms of how many people participate, but more so how sincere they are...Can those prisoners see the beauty of unity in the rewards of struggle?! For I know there will be another organized effort along our journey.
---
THE STAKES in this struggle are high. Conditions for prisoners are nothing short of barbaric, and the danger of retribution is all too real.
At the same time, prisoners are emboldened by the growing calls for prison reform emerging on the outside, as well as the widening struggle inside. Azzurra Crispino of the IWOC said in an interview that there was "tremendous amount of support on the outside, with support actions taken in over 50 cities. On the inside, large numbers of units are on lockdown, and we haven't heard from them yet...and we don't expect prison officials to acknowledge it."
Prisoners are setting their sights on the wider horizon--the need to uproot the system of mass incarceration as a whole. "On this the 45th anniversary of the heroic Attica prison uprising," declared a statement by Xinachtli at the James V. Allred Supermax in Iowa Park, Texas, "we honor the martyrs who sacrificed their lives in defense of freedom...[and call for] ultimate abolition of all capitalist for-profit prisons."
Curry, speaking on Block Report Radio, echoed the sense of hope and possibility:
It's all coming together, prisoners saying: We're not taking this no more no more. Just as Black Lives Matter is in the streets, saying to the cops and to society: We're not having this no more. Same as the protesters at the DNC telling the powers that be there: We're not accepting, this ain't going down like this no more, it's a new day.

We're saying this as prisoners: It's a new day.